BUILDING COMPLEXITY IMPACTS HUNDERTWASSER PROJECT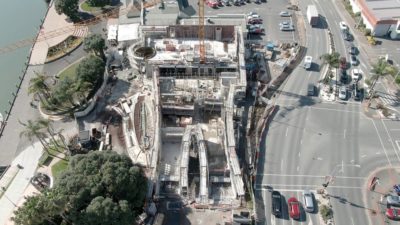 Unexpected design changes and related costs are behind a construction budget over-run of $4
million on the Hundertwasser Art Centre with Wairau Māori Art Gallery, in Whangārei's Town
Basin.
The $26.5 million project, which is run by the Whangārei Art Museum Trust, an independently
governed Council-controlled organisation, is due for completion in March 2021, with doors
opening in July. Northland's Regional Economic Development Agency, Northland Inc has
estimated the art centre will bring an annual economic benefit of $26 million to the region.
Funding for the art centre was raised through a combination of central and local government
investment along with substantial private donations.
Whangārei Art Museum Chief Executive, Kathleen Drumm said a working party had been
formed to seek additional funding solutions, and the project team had already found significant
savings without compromising the quality of the build or the planned visitor experience of the
centre.
"Despite the thorough planning of the team involved in launching the art centre and in getting us
this far, a series of unknown factors which could not have been anticipated have affected the
budget. This includes a huge amount of asbestos found in the old Harbour Board Building which
previously occupied the site," Ms Drumm said.
Substantial design changes were also required after peer reviews of plans during the Council
consenting process.
"While the changes have resulted in a much stronger building, they have proved expensive to
redraw, required costly additional materials to execute, and increased the complexity of the
construction process," Ms Drumm said.
Consent changes affecting the contract price, increased steel density in the walls, and deeper,
more complex piles sinking 37 metres into the ground, are some of the examples of why the
project has experienced the budget over-run.
NZ Institute of Building President, Graeme Birkhead said one-off construction projects were
notoriously difficult to estimate prior to commencement.
"The Sydney Opera House is a famous example of course, but these types of projects all share
a similar history and the reason is their unique complexity," Mr Birkhead said.
Ms Drumm said the new art centre would become home to the country's first permanent
national gallery for contemporary Māori art and would also display $20 million worth of
Hundertwasser's art, the only permanent display of his work outside of Austria.
"The art centre will provide the region with an exceptional opportunity for job growth, as well as
other economic, social and cultural benefit," Ms Drumm said. "We are confident we will raise
the additional funding needed."
Progress on site has not been affected by the current budget shortfall.